Publication Date: April 9, 2015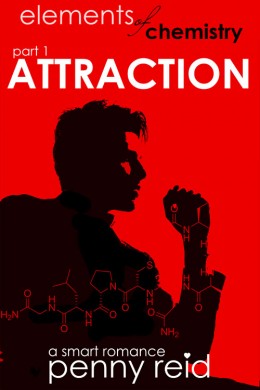 Elements of Chemistry: ATTRACTION is the first part in a three part series; it is 45k words; and it ends with a cliffhanger. Part 1 (ATTRACTION) will be released April 9, 2015 Part 2 (HEAT) will be released April 30, 2015. Part 3 (CAPTURE) will be released May 16, 2015.
One week. Private beach. Invisible girl. Jerk-faced bully. What's the worst that could happen? Kaitlyn Parker has no problem being the invisible girl, which is why she finds herself hiding in various cabinets and closets all over her college campus. Despite her best efforts, she can't escape the notice of Martin Sandeke—bad boy, jerkface bully, and the universe's hottest, wealthiest, and most unobtainable bachelor—who also happens to be Kaitlyn's chemistry lab partner. Kaitlyn might be the only girl who isn't interested in exploiting his stunning rower's build, chiseled features, and family's billionaire fortune. Kaitlyn wants Martin for his brain, specifically to tabulate findings of trace elements in surface water. When Kaitlyn saves Martin from a nefarious plot, Martin uses the opportunity to push Kaitlyn out of her comfort zone: spring break, one week, house parties, bathing suits, and suntan lotion. Can she overcome her aversion to being noticed? Will he be able grow beyond his self-centered nature? Or, despite their obvious chemistry, will Martin be the one to drive Kaitlyn into the science cabinet of obscurity for good?


Holy Moly why have I not read Penny Reid before? She is BRILLIANT!!! The writing is flawless. She's so original and I thought about these characters for days. I read a book with college aged characters right after and honestly, I wanted them to be Martin and Kaitlyn.

Martin is a hot shot crew guy. Kaitlyn is a bit nerdy and awkward. They are lab partners in chemistry class that haven't spoken a word outside of pass the beaker all semester. But they somehow (I'm not telling) on Spring Break together. The sparks are there, the chemistry is potent. The way these characters interact with each other is real.

I was brought into Martin and Kaitlyn's world and I about died when it ended. I NEEDED more as soon as possible. I love that Ms Reid is releasing the books weeks apart from each other.

This is a definite MUST read series. The humor, the chemistry and the writing were all so smart that I couldn't help falling in love with the story.

I was given an ARC in exchange for an honest review!
SEX! It all started with sex, between my parents. Personally I don't like thinking about it, but whatever works for you is a-ok with me. No judgment. The sex happened in California and much of my life also occurred in that state until I moved from the land of nuts (almonds), wine, silicon… boobs, and heavy traffic to the southeast US. Like most writers I like to write, but let's get back to sex. Eventually I married and gave birth to 2 small people-children (boy-6, girl-4 as of this writing).
By day I'm a biomedical researcher with focus on rare diseases. By night I'm a knitter, sewer, lino block carver, fabric printer, soap maker, and general crafter. By the wee hours of the morning or when I'm intoxicated I love to listen to the voices in my head and let them tell me stories. I hope you enjoy their stories.