We are so excited to be participating in the Release Week Event for Emeralds by K.A. Linde. Take a sneak peek into the book below and make sure to enter the giveaway for a chance to win a signed set of the entire series (Diamonds, Gold and Emeralds)!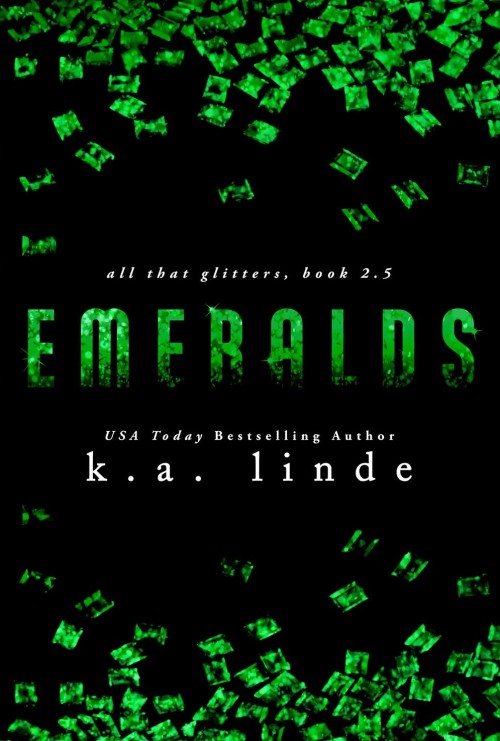 Walking away from him was easy.
Then he shows up late one night at Trihn's ballet company, and all bets are off. Trihn knows that she should be careful. But when it comes to Preston Whitehall, she throws all her carefully constructed reasons for not dating out the window.
He's cunning, charming, and hot as sin. And he knows exactly how to use those qualities to get what he wants. Soon, Trihn is dragged deeper and deeper into his rapidly intensifying whirlwind.
But where a storm is brewing…destruction and devastation follow.
Find out how Trihn goes from prodigy to party girl in this sexy full-length prequel to Platinum in the USA Today bestselling author K.A. Linde's All That Glitters series.

I'm a HUGE fan of the All That Glitters series but this book is by far my favorite!

Trihn'

s character was introduced to us in Gold and Diamonds but you don't need to read those books to read Emeralds. It can be read as a standalone. Emeralds takes us back before Gold and Diamonds takes place. It gives us an insight to Bryna's best friend.
I love how this book unfolded. It seemed like such a normal love story that I was confused on what author I was reading and then WAM! In true K.A. Linde style you threw us a curve ball that I didn't really see coming.
The writing was great per usual of KA Linde, the characters were fantastic and I seriously can't wait for Platinum. I'm dying to know how Trihn's story ends.
K.A
. Linde has delivered another gem with her latest in the All That Glitters Series, Emeralds. The previous books, Gold and Diamonds, were Bryna's story. Emeralds

takes us into the world of Bryna's best friend, Trihm.
What I loved about Emeralds was how different it was from the first two books. The timeline happens before the first two books, and I loved that. We get insight into the characters we have become familiar with, but the story isn't a continuation where Diamonds

ended.

Despite being best friends our heroines from this series are quite different. At times during Gold and Diamonds, I found myself getting frustrated with Bryna, but surprisingly Trihn didn't push me out of my comfort zone the way the first two books did. Just when I thought K.A. Linde was going soft and had found her softer, less angsty side, she obliterated me with a plot twist I never expected. Unfortunately for readers, Trihn's story isn't over yet, but I'm

dying to find out how her ending plays out.
If you haven't had the chance to check out K.A. Linde's All That Glitters Series, I highly recommend it. She's the

Queen of Angst for a reason.
FIVE FUN FACTS ABOUT EMERALDS
Emeralds is primarily set in New York City. I went there for a weekend to do research for this book, and all of the places they go to (even if not specifically named) are real!

Trihn is a ballerina at a dance studio in the city. Name changed from what it is in real life, but based off of the New York City ballet.

I danced all forms of dance growing up and recently took up pole dancing. These are all centered around Trihn as she is a very accomplished dancer. All the moves she does in ballet or otherwise are real choreographed steps!

This is the first book I've ever written in romance where the main character has an older sister.

Trihn is basically the polar opposite of Bryna, the main character from Diamonds and Gold. She was really fun and difficult to write, because she is incredibly nuanced and has a personality that compartmentalizes her feelings and relationships depending on who she is with. I think that's why Bryna and Trihn work as friends. Bryna holds Trihn up, and Trihn holds Bryna back. You'll get to know Trihn so much more in this book and come to love her!
Trihn sighed and sank back into her seat just as the first ballerina floated on stage. As she reveled in the performance, Preston ran his hand up her arm and to her shoulder, sending shivers down her spine. She glanced over and him and he had this dirty smirk on his face. He wasn't even watching the ballet. His eyes were solely trained on her.
She swallowed and stared back at the ballet in front of her, but her attention was torn. His fingers brushed her long tresses off her neck. The palm of his hand pushed flat against her skin and up into hair. He pulled it gently, and as her head dipped backward, her eyes closed of their own accord.
With his other hand, he laced their fingers together, bringing her hand to his lips. He tenderly kissed each knuckle before drawing her thumb gently between his teeth. She inhaled deeply.
He seemed to be enjoying himself as he kneaded the muscles in her neck. He leaned forward toward her and planted a soft kiss on the sensitive skin.
"Keep your eyes open. You don't want to miss a second of this," he breathed softly.
Dear God! He was teasing her. This was sweet blissful torture.
She could hardly concentrate. Keeping up with two things at once, when one was tempting her with everything she wanted, was harder than it seemed. She was glad that as the ballet drew to a close that she had seen it before or else she would have been entirely lost to what was happening much of the performance.
His touch was captivating, and she found she was a lost cause when it came to this man. She hadn't just forgotten the ballet that was in front of her face; the world had disappeared all around her. In a sea of people, there was just him.
The curtain dropped unexpectedly, bright lights flooded the auditorium, and Trihn jolted upright. Preston sat up straight as if he hadn't just been working her into a frenzy with the lightest touches imaginable. The smirk on his face was the only indication that anything was amiss.
As the curtain was raised and the dancers began to take their bows, Trihn rose on shaky legs to give the ballet that she couldn't remember a standing ovation. Preston stood by her side, applauding. They clapped until everyone left the stage and people started filing out.
She exited into the aisle, and Preston grabbed her hand again.
"Hey, we're not done," he said. The words were suggestive and were accented by his hand squeezing around her waist.
"Oh?" she managed to get out.
"Come on. I think you'll like this surprise better."
"Why is that?" she asked.
"Because I like to finish the things that I start."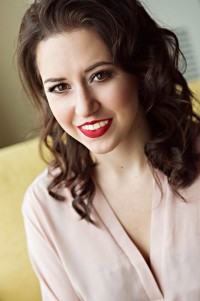 USA Today bestselling author K.A. Linde has written the Avoiding series and the Record series as well as the new adult novels Following Me and Take Me for Granted. She grew up as a military brat traveling the United States and Australia. While studying political science and philosophy at the University of Georgia, she founded the Georgia Dance Team, which she still coaches. Post-graduation, she served as the campus campaign director for the 2012 presidential campaign at the University of North Carolina at Chapel Hill. An avid traveler, reader, and bargain hunter, K.A. lives in Athens, Georgia, with her husband and two puppies, Riker and Lucy.
---
Diamonds
Gold
*Gold is on SALE for a week for $.99!*